This is an extended version of my Run my City reddit post.
Lisbon is a great city for running, where you can get a lot of variety in a smallish package.
This map shows everything you need to know to run in the city.
Red lines are route suggestions
Blue lines are connections between routes
General information
It is a hilly city, but you can avoid it by running by the river or on the flatter Avenidas Novas/Saldanha region (more on that later).
All streets have sidewalks, although they are tiny near the Castle (Mouraria and Alfama) or Bairro Alto
As a general rule, the best places to run are the streets with bike lanes, as they have larger side walks and you can run next to the bike lane.
Keep in mind that most of the side walks are made of beautifully slippery cobbled stone especially when wet.
Lisbon is a safe city to walk and run.
I would only avoid running in the eastern part of the city (Chelas area), although if you are just passing through during the day, you should be fine.
People are used to seeing runners on the street; you will not get a lot of weird looks.
One problem with Lisbon is water fountains:
maintenance is not great, which means I cannot guarantee that they are functional.
Plan around this by bringing water with you.
Toilets may be a problem.
There aren't that many public toilets, and most have a 0.50€ charge.
Your best bet is shopping centres (Campo Pequeno and Atrium Saldanha saved me more than once).
Sweaty runners in full gear aren't a common sight in shopping centres, but when you have to go, you have to go.
You can find free toilets at EUL, Alameda park amongst other places.
Check the map for the best options.
Weather
One of the reasons that makes Lisbon a great city for runners it that you can run year-round, without major hurdles.
Mild winters (December to February):
It does not get very cold in Lisbon in the winter. Daily averages of 11ºC/53F on the coldest month (January), and the temperature does not usually go bellow 5ºC/40F.
Snow is almost unheard of.
You can run at any time of day, if you wear temperature adequate clothes. Layers are a good solution.
Some people say that it may feel colder than that temperature may indicate due to the humidity.
If you need to buy gear, you have a Decathlon store in El Corte Ingles (blue/red subway line: São Sebastião station), or a SportZone at Colombo shopping centre (blue line: Colégio Militar) or Vasco da Gama shopping centre (red line: Oriente).
Check the map for the one that is closest to you.
"Unstable" Spring and Autumn (March to May, October to November):
In the Spring and Autumn, the weather is generally nice.
You can have days with warm afternoons (20ºC/68F), where it gets much colder as the sun goes down.
Careful with the rain in the Spring, Winter and Fall.
When it rains it Portugal it pours hard!
Usually it rains hard for 15-20 minutes and then it calms down into a drizzle.
I usually plan around this by looking at the hourly forecast from Google Weather or Windy, but you never know.
Hot, dry Summer (June to September):
Temperature can get to the high 30ºC/100F!
Run in the early morning (before 9 am) and late afternoon (after 6/7 pm).
On most days, we get a cool breeze by 6-8 pm, which helps tremendously.
Hats and sunglasses also help.
Don't forget to bring water with you on longer runs.
Check Wikipedia for more detailed climate information..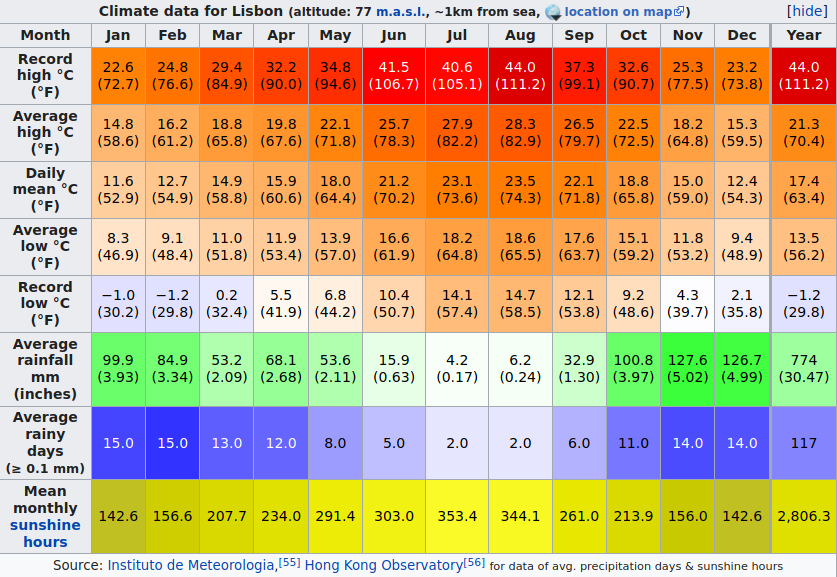 Route suggestions
Lisbon offers a varied set of settings for your run, in a surprisingly compact area.
From tiny alleyways to forest single tracks and a wide open promenade, you'll definitely be able to find a place that is just right of you.
Notes on Public Transit
Lisbon is covered by a decent network of public transport, made of the subway, tram, suburban train and buses.
The network works especially well in the downtown area, meaning that you can always take the subway and start your run there.
The map enables you to check the most relevant stations for the recommended routes.
Use Google Maps or Transporlis for more fine tuned public transport recommendations.
Monsanto Forest Park
A slice of nature that makes you forget you are right next to a big city.
Hilly (not kidding: it has the highest elevation in Lisbon at 227 m / 744 ft, being about 3 km / 1.86 miles from the river/sea).
It is the urban forest park in the world with well kept trails and tiny single tracks.

Safe place to run, although I advise you to be careful with the mountain bikes if you run on the smaller single and downhill tracks.
I also would not advise you to run there after dark, as it does not have street lights in most places.
To get there, you can get a bus to Parque Recreativo da Serafina (bus 770) or get to train/subway station Sete Rios/Jardim Zoológico (1 km / 0.65 miles walk to Palácio Marques da Fronteira).
The recommended route loops around Monsanto with views of the city and the sea.
It follows large dirt tracks that do not require trail shoes.
Start at Parque do Calhau, or from Sete Rios (one 1 km extra each way).
By the River
Starting at Cais do Sodré, you can run by the river from here to Belém (pedestrian path by the river), Parque das Nações (part of the track is next to the road), or uptown to the Avenidas Novas area.
This is the place for your long and flat runs:
you can run all the way from the Trancão River to Guincho Beach for a total, one-way distance of 50 km, with no major obstacles.
Parque das Nações
The former site of Expo 98 international fair and one of the most popular places for runners.
It is a big flat broadwalk area by the river about 5k across, with no road crossings.
Lots of runners and a good place to go at any hour of the day or night.
You can get there by subway (red line: Oriente) or train (Oriente).
Run right in the broadwalk, and enjoy the World Expo 1998 and Vasco da Gama bridge views.
Belém
A runner's favorite: flat, next to the river, goes through some of the coolest Lisbon landmarks.
You can get there by train (catch Linha the Cascais from Caís do Sodré to Belém station), tram or bus.
Run next to landmarks such as Torre de Belém, Padrão dos Descobrimentos, Mosteiro dos Jerónimos, CCB, Electricity Museum and MAAT.
You can continue further to Cais do Sodré or cut it short.
Downtown and Center
I would advise against running on the Castle, Mouraria, Alfama and, to a lesser degree, Bairro Alto, Campo de Ourique, Lapa and Estrela for anything other that easy, sightseeing runs.
The streets and sidewalks are tiny and climbs will kill your calves.
Rua Augusta is quite crowded, but you can mostly avoid the worse of it by going on the parallel Rua do Ouro or Rua da Prata.
If you insist and feel like dodging pedestrians while destroying your calves, here are our suggestions.
I recommend running these routes in the early morning, and avoid weekends.
Viewpoint Run
This route gives you three great sides of Lisbon Goes through three awesome viewpoints: Portas do Sol, Graça and Senhora do Monte.
Trendy Lisbon
Cuts through the famous Bairro Alto goes through some of the trendiest areas in Lisbon.
Deeper Cuts
Estádio Universitário de Lisboa (EUL), Cidade Universitária de Lisboa
Sports park with soccer, rugby, basketball, tennis courts…
It is good for speed workouts, and well connected if you want to run somewhere else.
You can go from there to Campo Grande, another urban park.
There is also a running track you can rent if you really feel like doing a proper workout.
Closest subway station is Cidade Universitátia (yellow line) or Campo Grande (yellow/green line)
Avenidas Novas
Flattish plateau, where most people live and work.
It is also the location for a large number of hotels, meaning you can use our suggestions if you don't want to wander far from your hotel.
Parque Eduardo VII
This route goes through Parque Eduardo VII, an urban park, and a good place to see how you match against other runners on the Strava segment that goes up the park.
From there, it follows the bike lane to Monsanto, through Gulbenkian park and next to Lisbon oldest bike lane (Av. Duque de Ávila).
Av. de Roma
If you are staying closer to Alameda/Instituto Superior Técnico or Praça de Londres/Av. de Roma, you can also run there to Av. do Brasil or Campo Grande.
This route takes you through Av. de Roma, José Gomes Ferreira Park and Inatel park, where there is another running track.
There are some large avenues in this area, meaning you may have to wait at some traffic lights.
Belavista Park
Other park where you can run without worrying about cars, but not particularly remarkable (run from bike lane from Alameda).
Quinta das Conchas and Alta de Lisboa
Other nice urban park on the north of the city (yellow line: Quinta das Conchas station).
Outside Lisbon
Serra de Sintra: trails with some crazy elevation on mystical Sintra, 25k from Lisbon;
Serra da Arrábida: trails with a stunning view of the sea, 40k from Lisbon;
By "Marginal", the seaside road that goes from Lisbon to Cascais and Guincho Beach: most cities on the road to Cascais have a Passeio Marítimo where you can run by sea.
On Cascais, you can run to Guincho beach (about 10k in total each way). 25k from Lisbon.
There is also a suburban train line that runs until Cascais, meaning you can start or stop in multiple places on the way.
Running groups
See the weekly practices at the Correr Lisboa website.
You just need to show up and run, no need for pre-registration.
Check the map for start times and locations.
Races
Main race season runs between October and April, and the number of races keeps growing every year.
Larger races follow the road by the river between Parque das Nações and Algés, with some smaller on the Av. Novas area.
This schedule has most of the races happening in Portugal.